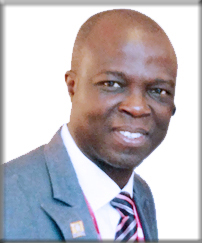 Anthony Friday Ikogwe was born on the 2nd of September, 1967 at Ode Irele in Irele Local Government Area of Ondo State, Nigeria. He attended Arerin Grammar School, Ode Irele in Ondo State, Nigeria where he back the West African Secondary Certificate (WASC) in 1985. He went further through the National Directorate of Employment (NDE) where he was trained as a Motor Vehicle Mechanic in UTC Technical Training Centre, Wharf Road, Apapa, Lagos, Nigeria. He work as a Motor Vehicle Mechanic with UTC Service Operations, Sapele Road, Benin City, Edo State, Nigeria. He has attended various training in the Automobile field at home and abroad which made him rose to the position of a Workshop Service Engineer with UTC Motors Limited.
He went further to London in United Kingdom for further studies with City and Guilds of London Institutes where he was awarded Motor Vehicle Technicians part III and the Full Technological Certificate (FTC) in Automobile Engineering in 1995. He proceeded for the National Youth Service Corps in 1996/97 where he served as a Youth Corper with Nigeria Petroleum Development Company (NPDC) a Subsidiary of NNPC, 62, Sapele Road, Benin City, Edo State, Nigeria.
During his National Youth Service at Nigerian Petroleum Development Company (NPDC) he was the Technical Officer at the NPDC in-house Motor Vehicle Mechanic Workshop where he used his technical expertise to maintain and repair most of the company vehicle at the in-house Motor Vehicle Mechanic Workshop in 1996/97.
He is the Managing Director of Ikogwe Automobile Works located at 6, Ewemade Street, KM6 Sapele Road, Benin City. Edo State, a company that is into Sales and Service of all kind of Vehicles since 1996.
He is the CEO Ikogwe International Limited a travel and Tours Company which services includes placement of Students in University and colleges across the globe, Visa Advisory, Airline Ticketing, Hotel Reservation and Booking. He has also traveled far and near to major countries of the world which some major cities in North America, United Kingdom, Europe, Asia, West Africa and East Africa.
He is a member of International Consultants for Education and Fairs (ICEF) in Germany, He is a Member of Society of Automotive Engineers U.S.A. He is a fellow of the Institutes of Classic Entrepreneur and also Member of Governing Board College of Entrepreneur and Small Scale Business, He is also a member of Association of Agents for Overseas Studies Recruitment of Nigeria (AAFOSRON).
He is the founder of Ikogwe Friday Education and Skill Foundation popularly known as IFES Foundation. A foundation founded for Skill acquisition and empowerment for the youth.